This is the two year saga of asinine Air Force antics involving corruption, cover-up and deception at the National Security Agency and the Air Intelligence Agency. This is a true story about honor in the United States Air Force.
Erika Proctor is an intelligence officer who used her influence and (possibly) sexual favors to further her career. Captain Proctor (formerly Furlong) no longer has a career. She is waiting to see how the Air Force will punish her and how many days she has left in the Air Force. The wait should be pleasant enough, she is stationed at a resort location, Tyndall Air Force Base, Florida. She has been assigned duties as the Deputy Information Liaison for Disgraceful Operations (DILDO). The Air Force is known not to waste expertise in any form. Originally, the office created for her was titled Deputy Information Liaison for Doubtful Operations. The 'Doubtful' was changed to 'Disgraceful' in keeping with Air Force policy to reorganize whenever possible to hide massive wastes of time and money due to inept management.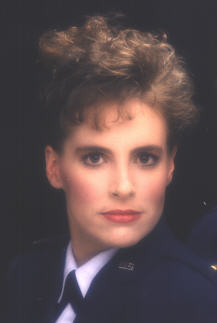 Captain Erika L. Proctor, USAF
Captain amErika is the focal point of this exposť on favoritism, influence, and the lack of honor the Air Force shows in day-to-day operations. It shows how 'special' treatment for select individuals, who have kissed ass, places them above the Uniform Code of Military Justice. Captain amErika has been a very special person for almost two years while she was immune to military justice and discipline. Serving as an intern at the National Security Agency, she was under investigation by several organizations including: NSA (M-4); the Air Force Office of Special Investigations (AFOSI), Detachment 33, Andrews AFB, MD; the 70th Intelligence Wing, Fort Meade, MD; and the Air Force Inspector General (SAF/IGS). The early lackadaisical investigations into violations of the Uniform Code of Military Justice (UCMJ) discovered nothing wrong. Many of the investigations were terminated suddenly with no reason given. Prejudiced investigators ignored the violations and allowed Captain amErika to graduate (April 2002) from her internship, the Junior Officer Career Cryptologic Program - JOCCP, and receive a prime command assignment in Florida.
Why? To the best of my belief, Captain amErika committed adultery with Lieutenant General Michael Hayden, the Director of NSA. He used his influence to make her life easier, since she made his life easier. The adultery occurred in August 2001, while she was in charge of a classified signals intelligence (SIGINT) intercept site overseas. (As an aside, you need to consider why a signals intercept officer, that wears a flight suit, is at Tyndall AFB Florida. Prior to her entry into the JOCCP, she was a flight commander at Bad Aibling Station in Germany. The Bad Aibling signal intercept site received a lot of attention from the German and European press because of allegations the site was used to collect economic intelligence from our European allies, particularly Germany. The intercept network was identified in the press as 'Echelon.' Captain amErika is fluent in German.)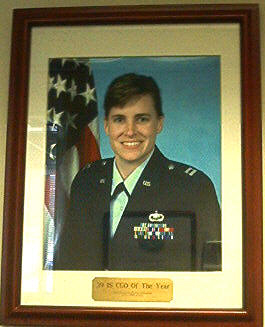 Captain amErika
29th IS, Fort Meade, MD
Company Grade Officer of the Year
(The Bitch is Back as a Reservist)
Despite her lying, cheating, and stealing, she was even selected Company Grade Officer of the Year at NSA! It must be nice to have a 3-star patron. (She even got a tacky looking watch as a booby prize!)
Captain Erika L. Furlong was divorced from Kevin Furlong on February 3, 2003. Press the button to see the details of the decree and a review of the names listed under the adultery portion of the divorce complaint. (Jack Griffith, NSA civilian, was added to the adultery list. She's lived with him in Odenton, Maryland and they bought a house together. The stupid fuck married her in October, 2007.)
This section shows the slow, stupid, and clumsy manner in which a serious complaint was handled. This section also includes a history of previous complaints and how they were dismissed.
Freedom of Information Act requests were sent to various offices at the Air Intelligence Agency (AIA) and other Air Force components. This page is amusing because it shows the incredible stupidity of Colonel John Diamond at AIA and why it took a intervention by the Air Force Inspector General and a Congressional inquiry to make him admit his mistake.
The death threat issued by Captain amErika against Kevin Furlong has not been resolved. A Florida lawyer has been hired to pursue a subpoena for information to prosecute Captain amErika for assault.
Captain amErika in the buff, strutting her stuff is just a few clicks away. ( . . . and it's not with Jack Griffith. Thank God, who could stand it.)
Profiles and contact information for the idiots who have been trying to protect Captain amErika and hoping this mess will go away.
Take a look to see the list of military units that have visited the Captain amErika site.
Although the divorce is final, Captain amErika is still in the Air Force. This section will outline her immediate future in the Air Force and follow her expulsion from the service. . . . and what about Lieutenant General Hayden?
Questions?

Contact the Webmaster
---
---