The Air Intelligence Agency tried to keep Captain amErika's punishment for sodomy a secret. The information below describes her ex-husband's attempts over years to focus the attention of Air Force leadership to her violations of the UCMJ.
The Investigation of Captain amErika
The latest investigation of Captain amErika began because a supporter of this site saw her 'involved' with a man in the parking lot of the Runway Sports Bar in Panama City, Florida - with everyone looking.
A complaint letter was immediately sent to Captain amErika's commander. Six months later, the investigation was complete. A copy of the summary report is located on the Results page.
NSA Investigation
Prior to the 8th Air Force Inspector General investigation, the number of people informed of Captain amErika's escapades was impressive because it took over 18 months to get anyone to review the complaints seriously. The initial complaint letter was written on April 28, 2001. The Air Force Wing at Fort Meade, MD, (a part of the National Security Agency) has ignored the subsequent complaints about adultery and acts of sodomy, despite the pictures. (The investigating officer, Capt Chiquita England, was silly enough to state there was nothing wrong performing sodomy because it was consensual and the individuals were married. The sodomy article of the UCMJ says nothing about exempting anyone because of consensual sex or being married. She presented an entirely new interpretation of the sodomy article. This issue of sodomy has been presented to the ALCU for them to monitor the Captain amErika sodomy issue.)
Tyndall AFB and AIA Non-Investigation
This is also true of the command leadership (and I use the word leadership loosely) at Tyndall AFB, Florida. Even her parent command is ignoring what occurred. Within the Air Force Intelligence Agency , Col Greg Haege, Commander of the 67th Information Operations Group, Air Intelligence Agency, Lackland AFB, Texas, has reviewed the material - and said "That doesn't sound like Erika." In true Lieutenant Colonel form, he passed the decision to someone else. He has also ignored two Freedom of Information Act requests. (See the FOIA page.) Copies of the letters documenting Captain amErika's adulterous liaisons and a video have been sent to Major General Paul Lebras, Commander, AIA, and his deputy, Brigadier General Neal Robinson. These wimps couldn't make a decision so the question was forwarded to LG Brucie Carlson at Eighth Air Force. It appears Carlson is more angry at this Webmaster who is making disparaging comments about the Air Force and so-called leadership, than an officer who has committed adultery and many other violations of the UCMJ.
Eighth Air Force Inspector General Investigation
Around the end of September, 2002, MG Lebras made a non-decision (what else is new) and passed the buck to his boss at Eighth Air Force - LtGen Carlson. Carlson told his lackey, Col Dennis Lange, the Eighth AF/ Inspector General, to call me and arrange for an interview.
Initial discussions in early October, 2002, with Lange over the phone indicated he didn't want to discuss the exploits of Captain amErika, Lange wanted to find out more about me. He tried to intimidate me with a thinly veiled threat of recalling me to active duty. He had been instructed by the 8th Air Force Staff Judge Advocate to 'advise me of my rights' since I was still subject to the UCMJ. (Hey, lawyer dude, I'm only subject to the UCMJ while on active duty, dumbshit. I retired a long time ago. Better start making up offenses from the past soon. Actually, I think the SJA is upset because my cock is bigger than his. He saw the pictures and video and felt inadequate.) This means these stupid fucks are threatening me with a return to active duty for punishment. Of course, the court marital comes before punishment. Can supercilious Air Force lawyers make this happen - not a chance. Naturally, the needle-dick SJA and limp-dick IG people hope that empty threats will cause folks who complain to knuckle under to Air Force intimidation. Informed individuals know the SJA will attempt a trial only when there is overwhelming evidence to insure a conviction. Otherwise, it would affect their numbers that would dampen their promotion possibilities in the SJA world. 'Numbers' are critical for the SJA. Convictions are the goal, not justice. After the SJA wimps have adjusted evidence in their favor, there is always a trial - to make the system seem fair. There is no such thing as military justice. Bluster and intimidation is the norm. Obviously, there is no such thing as honor where the SJA is concerned. So, the plan to bring me back on active duty is nothing but sword-rattling. Would they bring a disabled vet back on active duty just to punish him? It's up to Brucie. He might, if he's pissed off and wants to save Captain amErika (and complies with Hayden's wishes.) Somebody needs to tell Brucie (and his fucked-up SJA) that this 'Curtis LeMay-style' of leadership disappeared with SAC. I'm waiting . . . court martial me. I double-dare you.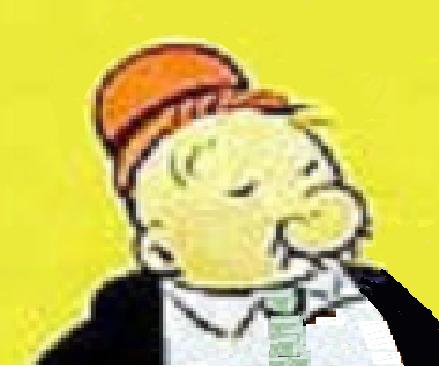 Artist's impression of LtGen "Wimpy" Carlson
Brucie's just a pissed-off dinosaur reacting thoughtlessly to a perceived threat. His response has been to shunt the complaint to channels where it will be denied and ignored. Despite his administrative machinations, this website and the violations of Captain amErika will not disappear because of impotent threats. Hey Brucie, what will you say to somebody from the the media, a person from NBC or Fox? What will you say to Howard Stern? What will you say to a reporter from the Dallas Morning News? Think now, you will need to respond to media requests in the very near future. (Micky Hayden has already been contacted by a major media entity and he is not comfortable. My guess is neither of you two geeks will get a fourth star. Maybe you won't retire with three. The not-so-admirable Poindexter only lost one star for his involvement with Iran-Contra, so what have you got to lose?) What do you have to say about Captain amErika and 'honor?'
The webmaster spoke with Carlson's colonel-drone on October 17, 2002. The webmaster was dealing with a Colonel so it is naturally stupid and boring. However, for those who want to know what he wanted, I encourage you to send a Freedom of Information Act to 8th Air Force/IG. I will be happy to sign a release of my information to anyone interested. This includes media reporters. For anyone who cares, I have posted my letter to Col Dennis Lange on the Results page. My letter is painfully boring because it carefully explains in minute detail matters discussed during the October 16th interrogation. I also had to keep it simple to match his capacity for understanding.
If anyone noticed, more than six weeks passed before anyone got around to talk with me. That showed the level of interest the Air Force took toward Captain amErika's transgressions and their everlasting hope that the problem will just go away. Seems they are really blind to her betrayal of trust, theft of personal property, lack of personal integrity to pay legitimate debts, and her inability to terminate a marriage equitably. These offenses show she does not have a reasonable mentality and can't keep her own life in order. (A few of these items were addressed by Lange's February 2003 reply.) So, are these prime indicators of leadership? If the Air Force refuses to see the problem, it can't be assessed. Besides, a blow job gains a lot of sympathy.
The Results page shows Carlson (or Lange) was unable to think how to 'wimp out' and still maintain some semblance of dignity. Almost everything else was ignored but the sodomy allegation. The tape and pics did not allow him the luxury to deny the complaint. But, he still needs to consider the impact his decision will make on those who think the Air Force is an honorable profession. Carlson really needs to consider the implications of letting her go free when pictures, videos, and DVDs are available showing her true nature. Many wives of military personnel have written to the webmaster about how worried they are at having Captain amErika (or someone like her) bopping subordinates while TDY. (I wonder if Col Lange's investigation asked Gauthier's wife if she liked her husband fucking Captain amErika in Bosnia? And Captain amErika's escapade in the parking lot of the Runway Sports Bar; did Skip's wife indicate how proud she was to have Captain amErika borrow her husband for a few minutes in public?) Many former wives of military officers have shown how the Air Force ignores adultery, even when proof is presented. The deciding factor in these cases has been whether or not the officer was liked by his boss. In these cases, other aspects came into play such as how the wife reacted to intimidation from the Inspector General and the usual long time lags between receiving a complaint and doing nothing; the slow roll. The American public would like to believe members of the Armed Forces are upstanding, moral people. This web site intends to show Captain amErika does not have the character or morals to make proper decisions. If Captain amErika remains on active duty, this site will document that LtGen Carlson does not have the necessary character or morals either.
The decision to place the matter with the Inspector General is a very good sign the decision on Captain amErika has already been made. She is safe has been selected for promotion. (I'm sure her jaw is very tired - and probably other parts of her anatomy.) In a large sense, the Air Force IG provides a buffer to produce a great deal of paperwork that has no substance. My complaints will be heard and ignored, then buried under many pounds of paperwork. Command channels have already vetted her and she is hiding until the matter is forgotten. Normally, anyone that holds a Top Secret/Sensitive Compartmented Information (TS/SCI) clearance would lose their access if there were any hint of sexual impropriety. The finding by the IG that sodomy was committed should influence a decision here. I think Lt Col "Backbone?" Haege will finally have to do the honors - after being coerced by the politicians with stars at AIA and 8th AF. The forecast for Captain amErika's security clearance is bad. It should be gone by now. Despite the fact she made her place secure, so her sexual antics, perjury, failure to pay debts, and failure to support a spouse, were ignored - she has the IG finding to face now.
How is Colonel John Wright, 67th Information Operations Group Commander going to handle the Captain amErika case? Having recently taken command of the Group, Wright inherited the Captain amErika piece of shit from his predecessor. Is he going to wimp out and follow the example of his leadership? Is the lack of backbone shown by Haege the leadership style of the 67th IOG? Wright hasn't answered all the mail yet on Captain amErika. Queries are forthcoming from HQ AF/IG and Congressman Doggett. Col Wright's indecision and decisions will be posted here and on the Dramatis Personae page.
Her protection has dissipated and she will soon face the music. Earlier, she was told to keep a low profile until this blew over. The cooling-off period to give the situation an appearance of fairness didn't work. She wasn't effectively protected. While she was sequestered, the Webmaster kept asking questions and the 'stars' in the AF tried to ignore my complaints and wanted to shut me up and have this site removed. I guess it really hurts morale when members of the military can't trust designated 'leaders' such as captains, colonels, and generals who are liars, careerists, and fools. As late as the week of 13-17 Jan, Captain amErika attended a course at Hurlburt Field. There was hope she would survive the investigation and continue he career. With the results of the IG Investigation, she has no career. The webmaster hopes it was a 'transition' class where military people are told how to ease themselves back into civilian life.
A few weeks after her course at Hurlburt Field, Captain amErika received an Article 15 for sodomy.
---
---